A stunning 173 from Nomad's star batsman Faheem Nazir helped Zurich Nomads win the CSPL Final against Zurich Crickets on Sunday 6th October 2019 at Cossonay Cricket Ground to complete their second double in four years, having won the Mr Pickwick Twenty20 Trophy earlier in the year.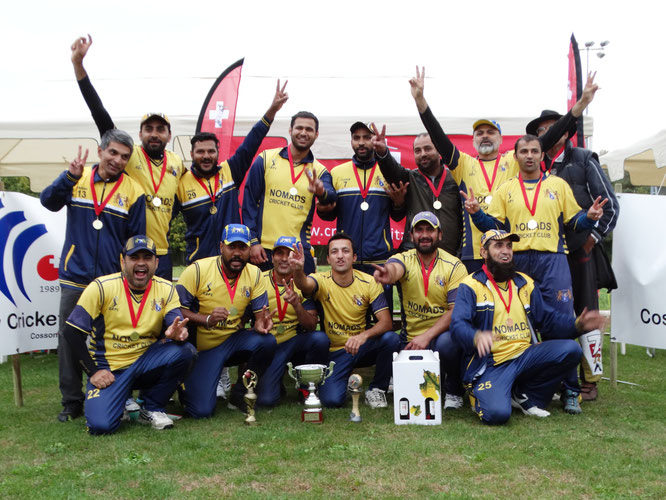 CSPL Final
Zurich Nomads versus Zurich Crickets
En Marche, Cossonay - Sunday 6th October 2019
Zurich Nomads Cricket Club 366-6 in 35.0 overs (F Nazir 173, A Nazir* 76, W Khawaja 67; A Ahmadzai 7.0-0-54-3) beat Zurich Crickets Cricket Club 205ao in 31.3 overs (N Ahmadi 28, J West 26, G Santhirasekeram 27, N Jabarkheel 25; A Nazir* 7.0-0-36-5) by 162 runs
Officials: P.de Boeck, O.Koilraj, C.Lodge, V.Parvathiah, V.Deshpande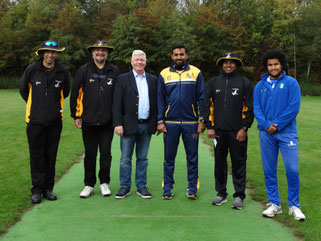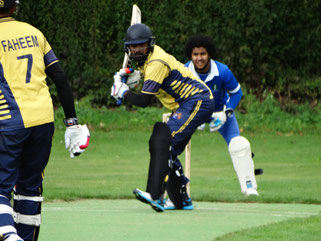 Faheem (173) and brother Aseem's (76) opening 182 partnership set the foundation for a convincing 162 run Nomads victory against the youthful Zurich Crickets in the Cricket Switzerland Premier League (CSPL) Final at Cossonay Cricket Ground on Sunday 6th October 2019.
With the forecast of heavy rain in the late afternoon, both captains agreed to reduce the game to a 35 over affair. A good toss to win, and Nomads did just that, immediately getting down to business and making light work of a Crickets bowling attack that didn't manage to find the right length, and, when they did, didn't manage to get into position to take the catching opportunities that came their way.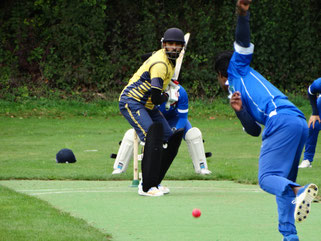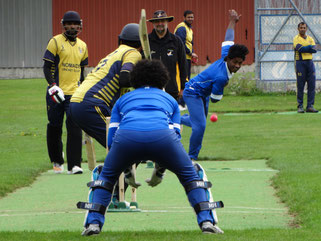 Two quick wickets by Wafadar Wahidzai in the 21st over (first clean bowling the Nomads captain Aseem (76) and then catching the incoming Shafqat (1) gave the fielding team some hope. Unfortunately for the young Crickets, big hitting Waqar Khawaja (67) silenced any chance of a recovery. He was dismissed by the Crickets' other Afghani, Attaullah Ahmadzai, on the first ball of the 33rd over and with less than 2 overs to go Attaullah Ahmadzai managed a further two wickets, ending Faheem's amazing innings (which was to earn him the Man Of the Match award) and Ankit Gupta (3) caught by Noorkhan Ahmadi, to make him the pick of the Crickets bowlers. The final wicket was that of Wajid Ali (4) off the last ball of the innings, Nomads ending on 366-6.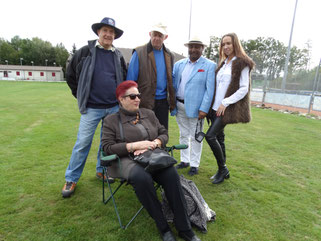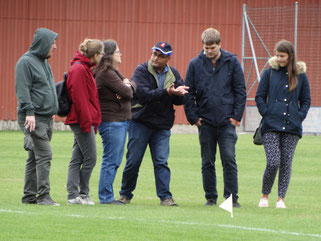 Lunch came just as some light rain fell but conditions dried up in time for the start of the second innings and no time was lost.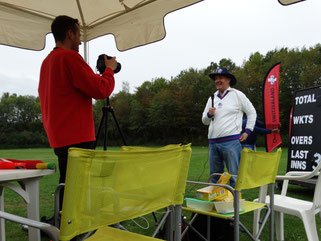 Having been set a massive 366 of 35 overs to win, a run rate of over 10 an over, Crickets would have been forgiven if they surrendered. But the didn't, Baljit Singh (17) and Noorkhan Ahmadi (28) getting the young guns off to a good start until Farid Din clean bowled Baljit with one of his inswingers.
Most of the Crickets batters made double figures, but it wasn't enough, Aseem Nazir with his 5 wicket haul, picking off the middle order at regular intervals, to prevent any upset and dismiss their opponents for a respectable 205 in 31.1 overs and with it secure a 162 victory and Nomad's second CSPL & Pickwick Twenty20 double in four years.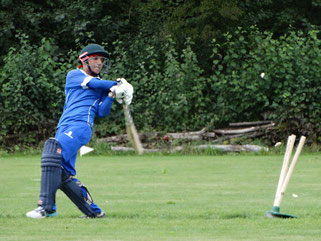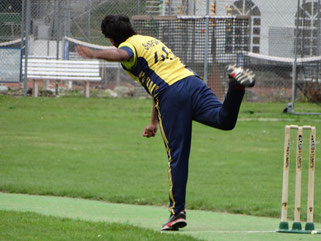 During the awards, Cricket Switzerland President Alexander Mackay congratulated both teams on a exemplary display and thanking the many people that had made the day possible and special.
The best batsman & best bowler trophies recognising the qualification phase were presented, followed by Man of the Match, the individuals runners-up & winners trophies and concluded with the Mayor of Cossonay presenting gifts to both teams and the winning trophy to the Nomads captain, Aseem Nazir.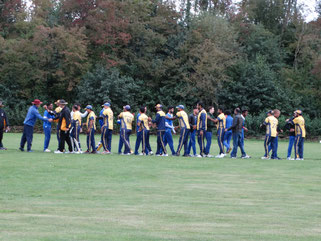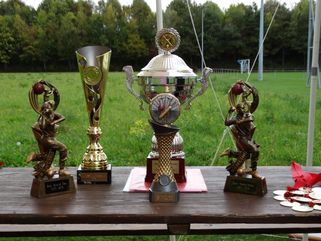 Re-live all the action by watching these videos that Cossonay Cricket Club streamed online.


Zurich Nomads Cricket Club
Zurich Cricket Cricket Club

1. Azeem Nazir *
2. Faheem Nazir
3. Shafqat Hussain
4. Waqas Khawaja (vc)
5. Hassan Ahmad †
6. Farid Din
7. Shijo Joseph
8. Khawer Memon
9. Vaibhav Deshpande
10. Idreez Muhammed
11. Prasad Shikhare
12. Ishan Tiwari
13. Ankit Gupta
14. Naveed Ahmad
15. Noman Khan
16. Satbir Singh
17. Wajid Ali
18. Abid Mohammed

 

1. Nicolas Henderson  * †
2. Ruan Kruger     
3. Noorkhan Ahmadi         
4. Wafadar Wahidzai         
5. Gushalavan Santhirasekeram   
6. Baljit Singh        
7. Attaullah Ahmadzai      
8. Dayn Pariaug  
9. Oliver Millar     
10. James West
11. Navroz Jabarkheel
12. Abdullatif Safi
13. Khawar Awan  
14. Surya Chandra
15. Simon Henderson
16. Ezatyar Zazai    
17. Aaditya Pradeep     
18. Sai Balaji    
19. Aryan Luthra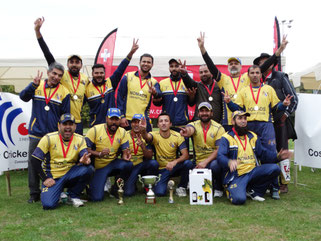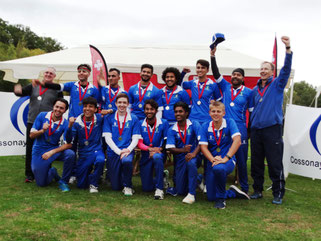 Read our introduction of the finalists at this year's CSPL Final and download the match programme below.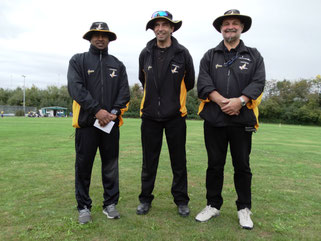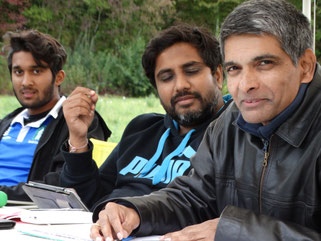 | | |
| --- | --- |
| Umpires: | Peter de Boeck, Onesimus Koilraj, Chris Lodge (3rd umpire) |
| Scorers: |  Vaishaka Parvathiah & Vaibhav Deshpande |

For more information pertaining to the CSPL quarter finals or the CSPL in general, please contact the Cricket Switzerland League Chairman, Mr. Asvin Lakkaraju.
---