The Ascension long weekend again saw a squad of U11 players from Switzerland tour clubs around Surrey at Weybridge, Camberley, Ashtead, Cranleigh, and Windsor.
The picturesque venues present new challenges to these players as they have to get used to grass pitches and quick outfields reports Michael Hall.


The squad was made up of 13 players:
| | |
| --- | --- |
| Player | Club |
| Adarsh | Geneva Region Youth CC |
| Bron | Gingins CC |
| Charlie | Basel Dragons Junior CC |
| Conner | Basel Dragons Junior CC |
| Ethan | Gingins CC |
| Greg | Basel Dragons Junior CC |
| Matthew | Cossonay CC |
| Owen | Zurich Crickets CC |
| Ryan | Cossonay CC |
| Sasha | Zurich Crickets CC |
| Shankar | Zurich Crickets CC |
| Thomas A | Gingins CC |
| Thomas G | Cossonay CC |
Weybridge U11 175-3 (O Feast 30*, F Faircliff 30*; Conner 1-16, Sasha 0-9) bt
Swiss U11 147 all out (Ethan 42*, Owen 25; F Faircliff 5-11, O Feast 2-23) by 28 runs
The first match of the tour saw a hot afternoon at Weybridge for a 24 over match. Weybridge batted first, and both Owen and Ethan were a bit rusty to start but tightened things up for their second overs. Sasha and Connor continued in this vein, before Connor struck, bowling H Takla. Sadly that was the only wicket with the ball, and the Swiss U11 fielding started to break down with the ball coming at pace on a quick outfield. By the time the next wicket was taken the score was already at 109, when Owen intercepted the ball and smoothly under-armed it to Thomas A to run out H Francis. Another 50 runs were put on before F Hargreaves was run out, again by Owen, wandering out of this crease. Weybridge finished on 175-3.

With a big total, requiring 7.33 runs per over, the Swiss U11s didn't get off to the best start with Sasha playing a bad shot to a bad ball and being caught by Faircliff. Thomas G and Owen consolidated, both finding the boundary before Thomas was bowled by Faircliff. Ethan joined Owen and both looked in great touch, taking advantage of the quick outfield to hit some glorious drives, and Swiss U11s looked in touch with the run rate. On the brink of retirement Owen was then out caught (Faircliff again!). Shankar stayed in for a few overs, but struggled to get many runs. Ethan continued in great form to retire on 30, with Switzerland looking to be in the match. Weybridge brought back their star bowler, Faircliff and a collapse followed, leaving Ethan back in with Ryan. Ethan managed to put 12 more onto his score before Ryan was bowled for Switzerland to finish on 147 all out. Given the massive target, the Swiss U11s did well to keep up with the rate for most of the match. F Faircliff should have a special mention for his 30*, five-fer and three catches.

Swiss player of the match: Ethan
Swiss U11 144-5 (Thomas G 24, Sasha 17; Owen 2-9, George 1-14) bt
Camberley 77-9 (Ollie S 13*, Adrian 6; Sasha 2-3, Ryan 2-4) by 67 runs
The Friday morning saw a 4-hour training session hosted by Mazza at Ewell Cricket Club, where the focus was on fielding given the first match. The evening saw the team travel to Camberley for a 20 over match. The Swiss side batted first, and this time got away to a much better start, with Sasha hitting his first legal ball for 4. He and Thomas G ran hard and put on a 49 run partnership, before Sasha played down the wrong line and was LBW to George for 17. Owen came in, and continued the quick running with Thomas before he was caught by Harry off Henry T for 15. Ethan found things tougher to get runs away for his first couple of overs before finding his fluency and hitting two boundaries. At the other end, Thomas G picked up singles and a couple of boundaries. Ethan ended up run out for 15 looking to up the rate. Now one run away from retirement, Thomas G looked to hit hard but could only chip the ball to Henry off Owen. Conner came back from his first baller to make 7 including one boundary with the Swiss U11s finishing on 144-5.

In the field, the Swiss looked like a different side with shots being well fielded and quickly returned to keeper or bowler. Owen and Ethan opened the bowling and got going more accurately, with only 16 conceded from their 4. Matthew and Sasha kept things tight, and the pressure told with Sasha bowling the opener Owen and then having Harry B caught by Owen next ball (leaving him on a hattrick for the next match). Camberley then faced trial by leg-spin with Ryan picking up two wickets (both caught by Thomas G), and Greg taking two (one caught and one bowled). Now reeling, the pressure told and Henry T was run out by Ethan. Ollie S and James rebuilt to push the score on from 37 to 64 before Adarsh bowled James. Thomas G then bowled Aariz, leaving Camberley on 77-9.

Swiss PotM: Thomas G
Swiss U11s 38-7 (Charlie 10, Ryan 6; William 2-2, Thomas 1-4, Christian 1-4) bt
Ashtead 37 all out (William 10, Adam 5; Matthew 2-0, Ethan 2-6) by 3 wickets
The next morning saw a trip to Headley CC to play Ashtead, and clouds threatening the sun. Ashtead batted first, and Owen struck third ball, having Alex caught behind in a wicket maiden first over. Ethan bowled Adam and Jamie with consecutive balls. The hat trick ball missed the stumps and the bat for a dot. Adarsh and Sasha formed a left-arm over partnership. Sasha's hat trick ball was clipped away for 4 off the pads, and the same happened with the next one. He came back however to bowl Christian. Adarsh followed suit, having Thomas trapped in front. Panic set in and William was run out by Owen and then Jude by Matthew, giving Adarsh a wicket maiden. Sasha bowled 3 dots to Oliver before bowling him, leaving Ashtead on 37-8. Matthew took four balls to finish off the rest, having Lachie caught behind, and bowling Toby.

With a small total, the batting order was mixed up, with Charlie and Greg opening. Sadly, Greg only faced a ball before a mix up saw him run out. Ryan faced a few more, making 6 before he was also run out. Shankar looked out of sorts on a low bouncing pitch and holed out, before Adarsh also ended up run out. Charlie managed 10 before being bowled by Thomas. Thomas A didn't last long either, and Conner was bowled first ball. Needing only 2 to win, it was left to Matthew and Ethan to see the Swiss over the line, much to the relief of all concerned!

Swiss PotM: Sasha
A drive to Dunsfold (avoiding the bank holiday traffic) saw another picturesque ground to play Cranleigh - one of the two teams that had been part of the tour last year. Cranleigh batted first, and for this match the standard laws applied to wides and no balls. This appeared to be a bad decision when Owen's radar appeared to desert him, sending down 4 wides in his first over. Fortunately, he recovered and was considerably more accurate the next. Ethan struck second ball, bowling A Fuller. Thomas G was accurate and difficult to get away, the ball finding the keeper's gloves or going straight to a fielder - and bowled a maiden. Adarsh bowled J Mundy, and the next over from Sasha saw M Dangerfield run out by Matthew. Sasha then bowled H Dabiri. Runs were then hard to come by, with Shankar bowling a maiden. Charlie bowled R Smith, and then came the spin test. Ryan was unplayable, going for 1 run off his two overs. Greg had F Neill stumped and then bowled E Denton. Pace came back on and Matthew had J Nicholas with a fantastic catch by Shankar at fine leg. Cranleigh finished on 85-8, with C Coverney weathering the storm to finish on 22*.
The reply started brightly enough with Sasha and Adarsh scoring 10 off the first two overs. However, the variable bounce had Adarsh trapped, and then Sasha limply pulled a ball to square leg. Owen ended up caught trying to hit G Willoughby over the top and the Swiss were rocking at 18-3. Ethan managed 8 before also falling to the low bounce. Shankar didn't heed the warning and attempted to sweep F Neill, and was hit on the back pad.  Greg holed out to Coveney after a testing over of spin, and Thomas G was also trapped by Dangerfield. At this point, the Swiss were 39-7 and victory looked far away. Enter Thomas A and Charlie. Charlie continued his form from the morning, and milked the strike and scored one 4. Thomas A took an over before hitting a boundary, and went on to hit consecutive fours off Ruggerid. Suddenly the match was alive, and the Swiss needed 6 off the last over. Thomas A was bowled, and Matthew fell to the same fate. Ryan came in, and if anyone could hit a 6 it was him - alas it was not to be and the Swiss finished on 82-9.

Swiss PotM: Thomas A
England Invitational XI 119-8 (Bailey 29*, Amrik 22*; Owen 2-8, Sasha 2-10) bt
Swiss U11 69 all out (Adarsh 17; Bailey 2-7, Nicholas 1-3) by 50 runs
The next morning saw the team at the spectacular Windsor CC, overlooked by Windsor Castle, for a triangular competition. First up was an England Invitation XI (mostly made up of players from Windsor CC). England batted first, and found Owen and Ethan extremely difficult to get away. They were both extremely accurate and quick, and well supported in the field, and the pressure told with Owen bowling Charlie D. By the end of the 4th over the score was only 8-1. The batsman found Ryan's leg-spin more to their liking, and managed to get four boundaries from him, but to his credit he kept pitching the ball up. Sasha applied pressure from the other end with a couple of good LBW shouts going for byes. It was pace that got the next wicket, with Thomas G bowling Zach. This brought Bailey to the crease, who looked in great touch, and only had one scoring shot that didn't go for a boundary. Shankar was accurate and it told when he trapped Oliver L in front. His next over was even more so and was a wicket-maiden, having Louis caught by Owen. Adarsh was also a challenge to get away, bowling a number of dots. To try and break the middle order, Owen brought himself and Ethan back on, and it was successful with both picking a up a wicket: Owen bowling Max, and Ethan having Nicholas caught by Owen (again!). With the lower-middle order in, Ryan came back and exerted some more control before Sasha bowled a double-wicket maiden - firstly having Joshua caught by Owen(!) and then bowling Monty. With Amrik having retired this brought Bailey back, and Thomas G, Shankar, Adarsh and Charlie were all able to keep the run rate down for England Invitational XI to finish on 119-8.

Needing six an over seemed like an achievable target on with the quick outfield, and Sasha made a good start cutting Bailey for four in the first over, before getting a single to bring Thomas G on strike. Bailey then took two in two - bowling Thomas and then Owen. Ethan stuck around for a few balls before being bowled by Nicholas. Sasha then ran out Thomas A without him facing a ball to top off a bad start. Bron managed a couple before being bowled by Zach. At the other end, runs had dried up for Sasha, with shots going straight to fielders, before he succumbed, bowled by Amrik in the 7th over. At this point the score was 15-6, and even reaching 30 seemed a stretch. However Adarsh started to rebuild, starting with singles before managing a few boundaries. Around him the others could stay in for long, although Ryan hit a six over long-on and Charlie a four. Adarsh was finally dismissed leaving the final score 69 all out.

Swiss PotM: Adarsh
Swiss U11s 134-3 (Thomas A 27*, Adarsh 21*; Henry 1-15) bt
Twenty20 Academy 107-7 (Dillon 13, Alex 12; Ryan 2-18, Owen 1-8) by 27 runs
Smarting from the heavy defeat, the Swiss U11s had an opportunity to show how they could bat on the surface against the Twenty20 Academy side. Charlie and Ryan opened and got things going at a good rate before Ryan was bowled by Henry. Charlie was then involved in a mix up with Matthew and ended up run out. Given the opportunity denied in the first match, Thomas A looked in great form, finding the boundary five times and retiring on 27 off only 19 balls. Matthew found scoring tougher, but combined well with Thomas and went on to retire as well. Conner started well, before a mix up saw him run out by on-loan Greg. Adarsh continued in a similar vein from the first match of the day, and found the boundary four times. He retired on 21 off 15 balls. This brought Owen and Sasha together for a quick cameo in the last couple of overs. Owen launched his second ball into the crowd at long-on, and he and Sasha then exchanged quick singles to take the score to 134-3.

Owen and Thomas G opened the bowling, and T20 found it difficult to get their accurate pace away with Owen bowling Cameron. Bron and Sasha were also tight, and the next wicket fell when Dillon was run out, wandering out of his crease when the ball was returned to Thomas A. Sasha bowled Manish in his next over, leaving T20 on 38-3 after the 8th over. Alex and Henry looked to consolidate, before Henry ended up run out. Shankar then had Alex caught to another catch by Owen. With Charlie injured in an off-field incident (subbed by his brother George), Owen went for spin at one end and him and Thomas G at the other. Ryan bowled accurately, getting good flight deceiving the batsmen, and had Ben stumped, and Jack bowled. This left T20 on 107-7 from their 20 overs.

Swiss PotM: Thomas A
The Swiss U11 team finished their tour with 3 wins from their 6 matches, and came together as a team fantastically well. Everyone on the team contributed with bat, ball or in the field. More importantly, they had great fun together on and off the field.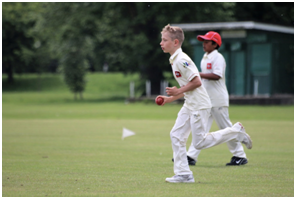 The bowling was probably the stronger suit, with the pace of Owen, Ethan and Thomas G testing the opposition batsman. Spin was also successful with Ryan and Greg both bowling accurately and giving the ball good flight, picking up four wickets apiece. Greg in particular was very economic, as was Matthew with an economy of below two and over. The wickets were distributed around the players showing a fantastic team performance. One bowler took wickets in every match - his accurate left-arm swing proving a challenge and that was Sasha with 8 wickets at an average of 6.75.

The batting was a little more hit and miss, coming from the true artificial pitches of Switzerland. The tour got off to a fantastic start with Ethan and Owen looking extremely fluid and in great form. The usual openers Thomas G and Sasha did well against some tough bowling. The team showed their middle order power with Adarsh and Thomas A both getting runs at a good strike rate. Thomas A combined well with Charlie to almost make a match against Cranleigh.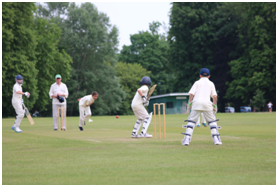 The fielding was also an area of good and bad days. However the team came back from the shock against Weybridge to put in a very tight performance against Camberley. Owen seemed to snaffle catches and take run outs at will. Conner was extremely quick, chasing down and stopping a number of boundaries. Thomas A showed how he has developed into an out-and-out keeper-batsman, with stumpings, catches and very few byes given.

Many thanks to all the clubs for their hospitality. The boys and parents were treated to some great cricket and lovely food. Thanks to all the parents for all the transportation and support; Gareth for umpiring; Tom and Matt for scoring; Darren and Mazza of Twenty20 Company for the organisation and training and Grant for all the coaching and "shouting"! Lastly to all of the boys for making a wonderful tour with some great moments on and off the field.

Michael Hall


Economy: runs conceded per over
Average: runs conceded per wicket
Strike rate: balls bowled per wicket
Extras per Over: number of wides or no balls conceded per over
Analysis: Overs-Maidens-Runs conceded-Wickets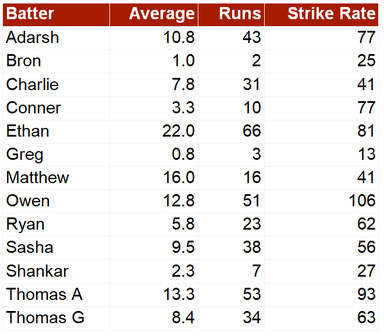 Average: runs scored per times dismissed
Runs: runs scored
Strike rate: scoring rate, where 100 is one run per ball faced
---